We are Hiring! - Research Consultant/Bioinformatics Scientist
======== Position Closed! =========
Would you like to get involved at the forefront of applying AI & big data technology in life sciences research and work with the leading pharma, biotech and research institutions worldwide? If you are a researcher with a background in genomics, proteomics, bioinformatics, molecular biology, or biotechnology with a strong affinity for experimental data analysis, please read on!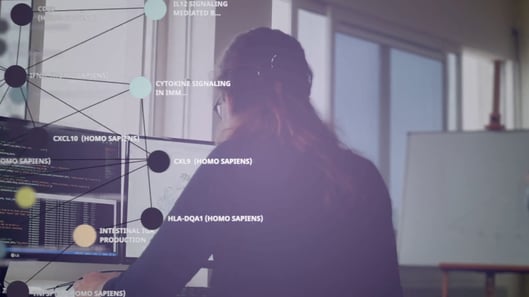 Due to the fast growth of Euretos, we are looking for an experienced scientist to join our Translational Science team. You will be taking a lead role in customer research projects and contribute to the development of our knowledge platform.
About us
At Euretos we are driven by a deep desire to unravel the complexities of human disease biology. We are convinced that connecting disease insight on phenotypic, cellular and molecular level, reduces risk and cost of therapy development. This leads to better and safer treatment options for more patients.
As part of this effort, Euretos creates computational perturbation models for diseases that make extensive use of AI technologies such as Machine Learning (ML) and Natural Language Processing. In our research projects, we connect state of the art data science technologies with biological interpretation to provide our clients with novel insights in disease biology.
You will be working at our offices at the Utrecht Science Park, Yalelaan 1, Utrecht.
Your Responsibilities
Conduct internal and external data driven research projects for therapy development

.

Identify, evaluate, prepare and analyze biological and biochemical data, from either public or proprietary sources, in a timely fashion and of high quality.

Provide biological interpretation of models developed by our data science team.

Lead and manage customer research projects, and report results to our clients.
Your Background
University degree, preferably a PhD, in molecular biology, bioinformatics or a related field, with an emphasis on computational analysis.

Experience with analysis, interpretation and visualization of complex multi-dimensional biological datasets, such as RNAseq, ChipSeq, quantitative proteomics and/or genomics/GWAS studies.

Strong statistical capabilities and proven experience using statistical analysis packages in R or Python.

Highly articulate in describing research outcomes so they can be readily interpreted.

Great communicator who builds strong working relations with customers and partners.

Strong written and verbal English language skills.

Self propelled – take initiative to bring things forward.
Apply Now!
Do you think you are the right person for the job? Then apply now and:
- Send an email to hr@euretos.com or
-Contact Sophie Roerink on linkedIn: https://www.linkedin.com/in/sophie-roerink-95743327/